Implementing the cooperation plan on science, technology and training in 2019, VNU Central Institute for Natural Resources and Environmental Studies (VNU-CRES) in collaboration with the Department of Biology, VNU University of Science (VNU-HUS) and the German Primate Center organized a training workshop on "Application of conservation genetics and forensic science to improve the effectiveness of law enforcement in the management of primate and wildlife trade ".
The workshop took place in 5 days from September 23rd to September 27th, 2019 at the VNU University of Science, 334 Nguyen Trai, Thanh Xuan, Hanoi.
In the opening session of the Workshop, there were Assoc. Prof. Dr. Luu The Anh, Director  of VNU-CRES, Prof. Dr. Nguyen Van Noi, Rector of VNU-HUS, attended and gave opening remarks. In addition, there were Assoc. Nguyen Quang Huy, Head of Department of Biology, representatives of Cuc Phuong Endangered Primate Rescue Center (EPRC), German Primate Center and other participants.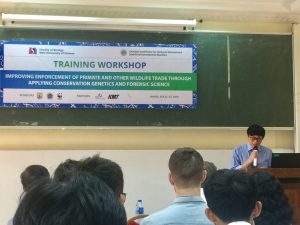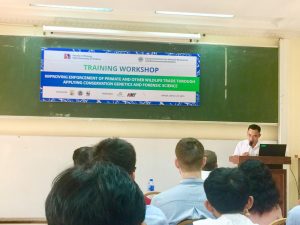 Leaders of VNU-CRES and VNU-HUS spoke at the opening ceremony
Participants of the workshop are students, researchers, lecturers and staff with expertise related to biodiversity, conservation, and wildlife trade currently working at government agencies and non-governmental organizations; There is a need for training on the use of molecular methods in biodiversity research / conservation and wildlife trade management.

Toàn cảnh các đại biểu tham dự hội thảo (ảnh: Nguyễn Tuấn Anh)
At this workshop, participants were trained on the use of molecular methods in biodiversity research / conservation and trade management of primates and other wildlife in Vietnam. This is an effort of international and domestic organizations to control the wildlife trade in Vietnam through the application of modern scientific methods and help Vietnam to fulfill its commitments to CITES International Convention.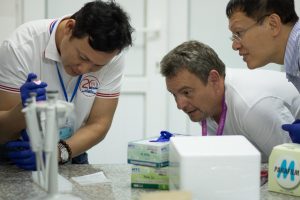 Experts guide students when working with pipettes (ảnh Nguyễn Tuấn Anh)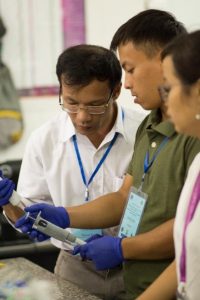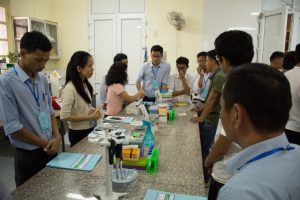 another picture (ảnh Nguyễn Tuấn Anh)
The workshop was sponsored by World Wide Fund for Nature (WWF – Vietnam), Global Wildlife Conservation and US Fish and Wildlife Service.