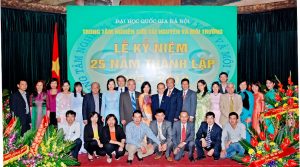 On the occasion of the 25th year of establishment, Centre for Natural Resources and Environmental Studies (CRES), Viet Nam National University (VNU) has organized a solemn celebration on the morning of November 14th,2010 in Nguy Nhu Kon Tum auditorium, 19 Le Thanh Tong Str., Ha Noi. Attending the ceremony were Prof. Nguyen Huu Duc – Deputy Secretary of VNU Assembly, Vice President of VNU; Prof. Tran Kim Dinh – Chairman of VNU Trade Union; Dr. Ha Cong Tuan – Deputy Driector General of the Viet Nam Administration of Forestry, Ministry of Agriculture and Rural Development; Dr. Nguyen Chu Hoi – Deputy Director General of the Viet Nam Administration of Seas and Islands, Ministry of Natural Resources and Environment. Also coming to the ceremony, not only were there representatives from different Government and Local Agencies, National parks and Protected areas as well as Associations, Institutes, Research Centres, Universities and non-governmental organizations (NGO) across the country and the Universe but there was also a cadre of senior faculties, researchers, collaborators and students of CRES over the periods of time.
Mr. Hoang Van Thang – Director of CRES reviewed the 25 years of building and development of the Centre and since the establishment in 1985 until now, CRES has not stopped developing from the very first founded environmental research unit of Viet Nam to the country's pioneering and leading research centre in conducting studies, training, providing consultations and services on natural resources, environment and sustainable development with interdisciplinary approaches in multidisciplinary aspects that satisfy practical requirements and social needs.
CRES – is the abbreviation of the Centre for Natural Resources and Environmental Studies, has become a reputed "brand" among national and international scientific communities. Since the inception, Prof. Vo Quy, Founding Director of the Centre and his colleagues have oriented the right direction of building this Centre to become a focal point of a larger network embracing natural resources, environmental and sustainable development scientists within and outside the country. In the field of our professional study, CRES has had many leading scientists and highly qualified young professionals with diverse expertise, self-motivated personality, creativity and enthusiasm with their work. As a result, CRES then soon focused on its strength through the creation of specific research departments including: the Department of Mangrove Ecosystem Research (MERD), the Department of Upland Research, the Department of Biodiversity Conservation and Wetland Restoration, the Department of Agro-ecosystems and Sustainable Rural Development and the Department of Environmental Planning and Assessment. Moreover, CRES is a well-known leading unit at training professionals in the field of environment. Since 1989, our Centre has recruited approximately 400 participants for 14 short-period training courses (six-month course) focusing on ecological approaches to conservation, resource utilization and land management and roughly 200 participants from 26 midland and mountainous provinces for 7 three-month courses on the human dimensions of upland resource management. The participants of the courses come from research institutes and state agencies, as well as community development organizations, and provincial departments throughout Viet Nam. In 2004, CRES started to offer graduate and post-graduate program in Environment, concentrating on Sustainable Development. And since 2008, CRES and Viet Nam Academy for Water Resources (VAWR) has affiliated with Cologne University of Applied Sciences (Germany) to offer international Master Program in Water Resource Management.
With continuous efforts, Prestige and Position of the Centre among scientific community is increasingly high. CRES has not only been invited to take part in many national and international research programs and consultations but it has also participated actively in the drafting of legislation, regulation and policy building, and strategic orientation in the field of environmental protection, resources management and sustainable development. From the successes in scientific and technological research, CRES has been energetically helping to solve many practical problems about environment, resources and sustainable development in many areas and been contributing greatly to the conservation of biodiversity, that has been appreciated broadly by many provinces and international communities. As of those contributions, many national and international prestigious awards have been given to the CRES's faculties including the Green Planet Award in 2003 to Prof. Vo Quy, the International Cosmos Prize in 2008 to Prof. Phan Nguyen Hong, co-author of the Nobel Peace Prize for the Environment in 2008 to Dr. Nguyen Huu Ninh and other National Environmental Prizes as well as the Certificates of Creative Laborer.
For the future developing orientation, CRES is aiming to become an interdisciplinary research centre and multi-sectors training unit in the aspect of natural resources and environment that keep pace with Asia's standard; is actively implementing researching and training activities with high applicability; is building and deploying natural resources management and conservation models, environment protection and sustainable development prototype; is contributing to improve the position of Viet Nam National University, Ha Noi that keeps pace with regional and international calibre. At the ceremony, Prof. Nguyen Huu Duc did appreciate the position and the contributions of CRES in the scientific community within the country. He also emphasized the prominent advantages of CRES as a pioneering unit, which has soon integrated internationally in the field of environment and oriented CRES's sustainable development base on core professionals with high quality, visionary ability and good adaptability to new developing directions of science that has been contributing to solve many practical problems of Viet Nam.
On behalf of Viet Nam National University, Ha Noi's Board of Director, Prof. Nguyen Huu Duc entrusted CRES with a mission to concentrate on deploying important tasks such as promoting partnerships between research and training units within VNU, developing organization's structure, scale and striving to become an affiliated research institute of VNU, thereby raising the position and influence of the unit among scientific communities.
At the ceremony, Centre for Natural Resources and Environmental Studies was honorably awarded Certificates of Excellent Performance for outstanding achievements in Researching and Training in Environment, Natural Resources and Sustainable Development by Prime Minister and the Ministry of Agriculture and Rural Development. Our Centre's Trade Union also received Merit from the Viet Nam Education Trade Union as of outstanding accomplishments in the school year of 2009-2010.
Someone Pictures