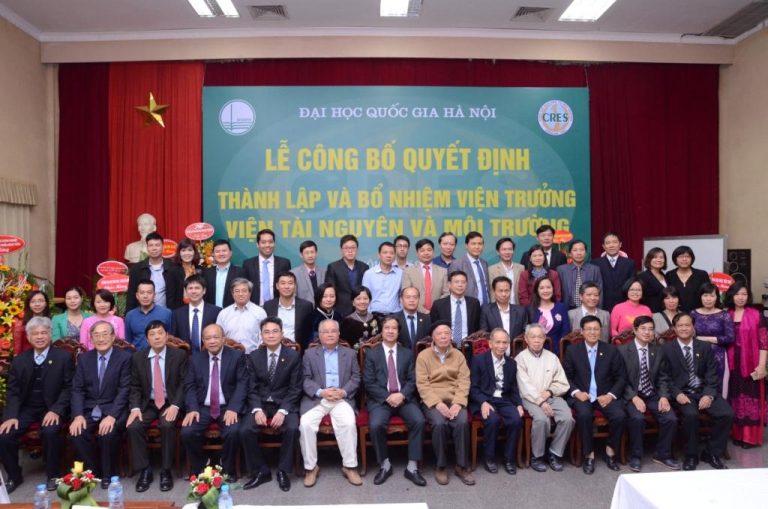 Over the past decades, doi moi, or renovation, has spread to most areas of Vietnamese life. At the earliest stages of the renovation process, a group of environmental researchers began petitioning the government for inclusion of environmental concerns within its development plans. Their research and lobbying efforts resulted in Viet Nam's first National Conservation Strategy and, in 1985, the founding of the Centre for Natural Resources and Environmental Studies (CRES).
Since 1995, CRES has become one of the research and training centres within Viet Nam National University, Ha Noi (VNU) with four main functions: (1) Research; (2) Training; (3) Consultation; and (4) Services on natural resources and environmental issues.
Drawing on its own faculty of natural and social scientists, and in cooperation with both national and international institutions, CRES has become a prominent force in the fields of agro-ecosystem and sustainable development, biodiversity conservation, environmental education, environmental impact assessment, human ecology research, mangrove ecosystem research, and wetland restoration and conservation. Through its fruitful activities, CRES has also become an influential force in the promotion of environmental awareness. Internationally, CRES is a member of IUCN, the scientific authority of CITES Viet Nam and  partner of MAB Viet Nam.
Since its establishment, CRES has implemented and taken part in 4 national programmes on environment and natural resources, 25 national level projects, 67 national cooperation projects, and 26 international cooperation projects; the Centre has also trained more than 500 scientists and managers on national environmental and natural resource issues.  In addition, CRES has successfully organized more than 30 national and 10 international workshops.
Mission
CRES is a focal point in providing leadership in the implementation of critical and strategic activities on biodiversity conservation, sustainable utilization of natural resources and environmental protection. CRES also promotes national and international collaboration in research, training, information dissemination and other activities in related areas.
Vision
To become the country's centre of excellence for natural resources and environmental studies.
Functions
Research
Training
Consultation
Services on natural resources and environmental issues
Goals
To conduct multi- and inter-disciplinary research in biodiversity and environmental issues for decision making and sustainable development.
To promote human resource development through formal education, training courses, workshops and seminars for professionals, administrative managers, decision makers and the public at large.
To provide advice, support and services in related areas.
To promote networking, partnership and linkages through enhanced cooperation among related institutions of Viet Nam National University, as well as with other national and international institutions and communities.
Priority orientations towards Science and Technology
To promote the role of an associative unit between research centres/institutes specialized in related areas within and without Viet Nam National University;
To implement inter-disciplinary research on environmental protection, biodiversity conservation service for a sustainable development and to define policies with community-based approach.
To effectively support educational training for Undergraduate and Graduate programs through scientific research activities
.