Within the framework of cooperation in science and technology in 2019, from November 8-13, 2019, VNU-Central Institute for Natural Resources and Environment Studies, Vietnam National University, Hanoi in collaboration with the Center for Southeast Asian Studies (CSEAS), Kyoto University (Japan) organized the 43rd Southeast Asian Seminar on "Economic Growth, Ecology and Equality: Lessons from Vietnam".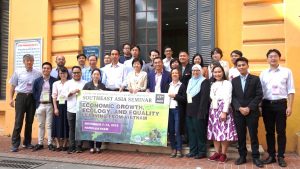 The dark side of economic growth often leads to ecological degradation and inequality. Many countries around the world have been facing ecological destruction and inequalities, such as inequality in access to natural resources, unequal employment and educational opportunities, as well as regional and national differences. These shortcomings are one of the major and urgent challenges currently in Southeast Asia.
Vietnam is one of the countries with the highest and most dynamic economic growth in the region. Vietnam's development over the past 30 years is remarkable. In 1986, Vietnam began to renovate its economy and politics, shifting from a centrally planned economy to a market economy, promoting rapid economic development, bringing Vietnam from one of the poorest countries in the world to become a low-income country. From 2002 to 2018, more than 45 million people escaped from poverty that dropped the poverty rate sharply from over 70% to less than 6% (US $ 3.2 / day on purchasing power parity). GDP per capita increased by 2.5 times; reached over 2,500 USD in 2018. Vietnam's medium-term economic prospect has many bright points, although there are still signs of cyclical growth reduction. Vietnam is witnessing a rapid change in population and social structure, the human capital index (HCI) ranked 48th out of 157 countries and territories and ranked second in ASEAN (after Singapore). At a rapid pace of growth over the past few decades, in many ways, Vietnam has tried to ensure a balance between growth, ecology and equality. Therefore, the objective of the Seminar is to exchange and share Vietnam's experiences on socio-economic transformation compared to other countries in Southeast Asia.
The seminar attracted the participation of 28 delegates who are scholars and scientists from countries in the region such as Vietnam, Japan, Indonesia, Philippines, Malaysia and Thailand. During the seminar, many delegates had been sharing the issues of economic growth, ecology and equality of communities in Southeast Asian countries.
Presentations from Vietnamese's delegates including Assoc. Prof. Dr. Luu The Anh, Dr. Nghiem Thi Phuong Tuyen and Dr. Dao The Anh and the Japan side including Prof. Yoko Hayami, Prof. Masayuki Yanagisawa and Prof. Wataru Yamazaki were focusing on social and economic development issues, agricultural economic development, urban development in Vietnam in recent years, risks and challenges for sustainable development of Vietnam.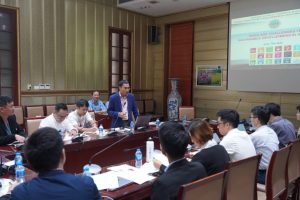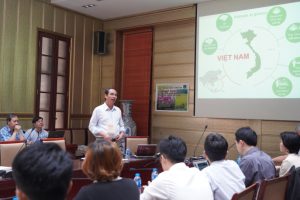 PGS.TS. Lưu Thế Anh (trái) và TS. Đào Thế Anh (phải) trình bày tham luận tại Hội thảo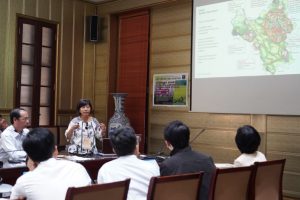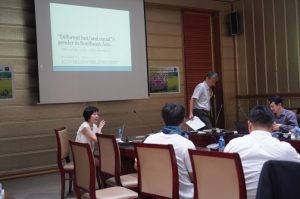 TS. Nghiem Thi Phuong Tuyen (left) và GS. Yoko Hayami (right) trình bày tham luận
In the framework of the Seminar's Program, in order to understand the issues of socio-economic development, ecology, equality and history of Vietnam, the Seminar had organized a series of field surveys at 4 craft villages in Hanoi (Phu Vinh cane and bamboo handicraft village – Chuong My, Chuong palm-leaf conical hat village – Thanh Oai, Tay Tuu flower village – Tu Liem and Chang Son paper fan village – Thach That); Lang Sen historical relic area – Kim Lien commune – Nam Dan district and Cao Veu ecological tourist village – Phuc Son commune – Anh Son district of Nghe An province.
Through practical experience, the Seminar initially gained some remarkable results from the reports on socio-economic, ecology, conservation, educational policies, development policy and ethnography from the development of Vietnam's socialist-oriented market economy.
After 6 days with diverse activities, the Seminar successfully gained and brought meaningful and practical results. The seminar is one of the crucial activities contributing to the promotion, connection and sharing of the socio-economic development achievements of Vietnam and other countries in the region. At the same time, it contributes to promoting cooperation in scientific research and academic exchange between VNU-CRES and the CSEAS in the future.
Một số hình ảnh trong chuỗi hoạt động của Hội thảo.