In the framework of scientific cooperation at the Memorandum of Understanding (MoU) between VNU-CRES and the Asian Climate Change Education Center (ACCEC), Korea signed in 2018, the delegation of VNU-CRES led by Dr. Vo Thanh Son, Deputy Director General, attended the International Conference on "The role of NGOs in responding to climate change" on September 25-26, 2019 in Jeju Island, South Korea . The conference was co-organized by the Government of Jeju in collaboration with ACCEC and VNU-CRES, with the participation of more than 60 managers, scientists of Jeju Province, non-governmental organizations, and Universities to share practical experience and research results on climate change response, especially the role of non-governmental organizations in responding to Climate Change.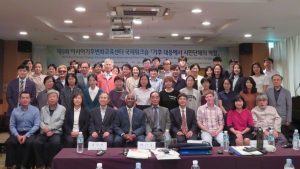 Các đại biểu tham dự Hội thảo quốc tế "Vai trò của tổ chức phi chính phủ trong ứng phó với biến đổi khí hậu" được tổ chức tại đảo Jeju, Hàn Quốc
Mr. Dai-Yeun Jeong, Director of ACCCE and Dr. Vo Thanh Son gave the opening speech. VNU-CRES staff actively participated in the conference's activities such as presentations of speakers and forums representing non-governmental organizations to discuss related topics. Here, VNU-CRES scientists had the opportunity to share the experience Vietnamese non-governmental organizations' operations in dealing with climate change, difficulties and challenges. At the same time, VNU-CRES scientists also learned from practical experience in environmental education activities for people, acting as a bridge between local authorities and Korean governmental organizations.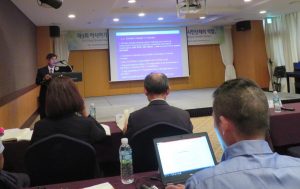 TS. Võ Thanh Sơn trình bày báo cáo về "Biến đổi khí hậu và vai trò của các tổ chức phi chính phủ tại Việt Nam"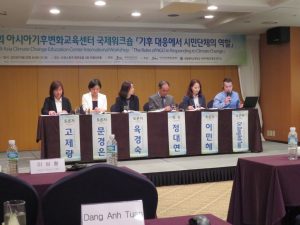 ThS. Đặng Anh Tuấn, đại diện của VNU-CRES tham gia diễn đàn thảo luận về vai trò các tổ chức phi chính phủ ứng phó với biến đổi khí hậu
VNU-CRES scientists had a field trip to a number of non-governmental organizations on Jeju Island to learn about environmental protection activities organized and carried out by local people themselves. The delegation also had a practical study at Ramsar Dongbaekdongsan Wetland Reserve with a model of community tourism development, visited the History Museum and Folklore Village, especially the delegation had the opportunity to learn about UNESCO world heritage site with the landscape featuring the volcanic past of Jeju, the Sangumburi crater.
.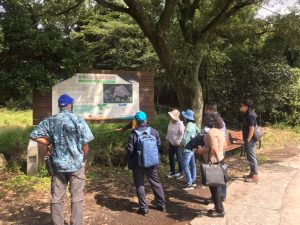 Thăm mô hình cộng đồng địa phương quản lý Khu Bảo vệ Đất ngập nước Quốc gia Dongbaekdongsan, được công nhận là Khu Ramsar vào năm 2011.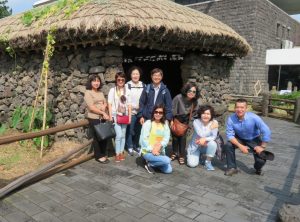 Thăm làng văn hóa Seongeup là Khu di sản văn hóa dân gian quốc gia tại đảo Jeju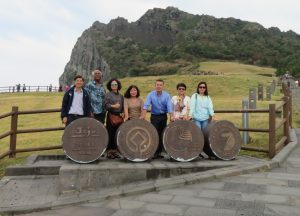 Tìm hiểu hoạt động du lịch tại Khu di sản thiên nhiên thế giới Seongsan Ilchulbong của UNESCO tại đảo Jeju
After 2 days of diversified activities, bringing meaningful and practical results, the conference was of a great success. VNU-CRES scientists have experienced many practical activities and learned a lot of knowledge on the role of non-governmental organizations in responding to climate change, protecting the environment in Korea. At the same time, it has actively contributed to promote research and education cooperation between VNU-CRES and ACCEC and other potential partners. Co-organizing and attending international scientific conferences, training courses, short-term courses are among VNU-CRES's annual priority activities with international partners.