On January 15th, 2020, the British Embassy, ​​together with the VNU-Central Institute for Natural Resources and Environmental Studies (VNU-CRES), Newcastle University and its affiliates solemnly organized the Commencement Ceremony of the Delta Research Project in Hanoi. Attending the ceremony were representatives of government agencies such as Ministry of Planning and Investment, Ministry of Science and Technology, Ministry of Natural Resources and Environment, Ministry of Agriculture and Rural Development, representatives of People's Committees, Departments and Boards from Red River Delta provinces such as Ha Nam, Ninh Binh, Thai Binh, Nam Dinh, Vinh Phuc, Hung Yen, Hai Duong, Bac Ninh and Hai Phong City, representatives of the Vietnam Academy Social Sciences, a number of universities and non-governmental organizations such as Mekong River Commission, Pan Nature, Helvetas, Oxfam, CRS, Care, IPSARD Vietnam, Asia Stockhom Environment Institute, etc..
The Living Deltas Hub, led by Newcastle-upon-Tyne University, lasts for 5 years with the aim of protecting the future of the delta based on building community adaptability and promoting sustainable development. The project is funded by the United Kingdom's Global Challenge Research Fund (GCRF) through the UK's Research and Innovation Council (UKRI). In Vietnam, the project is implemented in the Red River Delta and the Mekong River with the participation of units including: VNU-Central Institute for Natural Resources and Environment Studies, An Giang University, Can Tho University, Hoa Sen University, Vietnam Atomic Energy Institute and The Center for Water Resources Conservation and Development.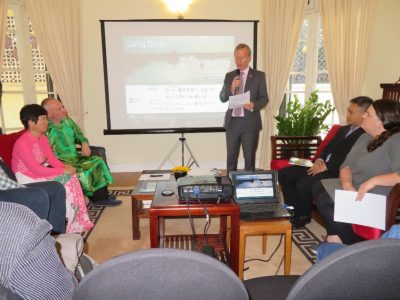 Figure 1. UK Ambassador Mr. Gareth Ward is introducing the Project.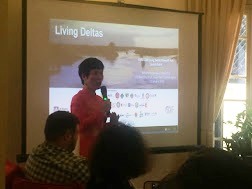 Figure 2. Dr. Le Thi Van Hue, VNU-CRES, is introducing the characteristics of the Red River Delta.
The project is divided into 6 main components:
Focusing on delta heritage, livelihoods and cultures to provide a vivid picture of the past, present and future of each delta;
Describe the key characteristics and risk assessments of the delta's ecosystems and society;
Quantitative assessment of human impacts that change the delta's natural system. Development of tools to assess the health status of delta ecosystems;
Developing interventions at the delta level to cope with and mitigate anticipated impacts to ensure the system does not exceed critical points;
Develop a monitoring framework for sustainable development goals for the deltas based on the values ​​of natural and cultural heritage as well as the context of the delta;
Supervise the development and sharing of resources to achieve the sustainable development goals in the delta's ecological and social system.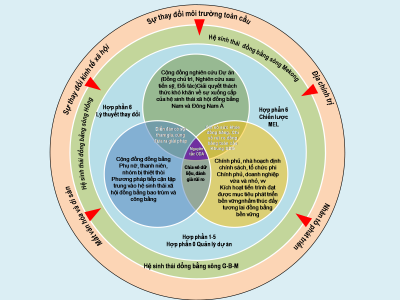 Figure 3. Model describing the structure of the Project.
The main components (including Component 1 to Component 5) aim to improve capacity and jointly create new knowledge and understanding about the change of the delta. The impact and output of the Project will be ensured by the Theory of Change and the monitoring, evaluation and learning (MEL) strategy of Component 6. VNU-CRES is primarily responsible for implementing the contents of Component 4 and participating in the implementation of Components 1, 2 and 5 of the Project.
ADMIN CRES